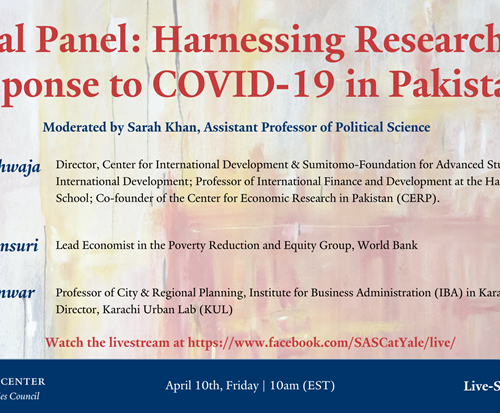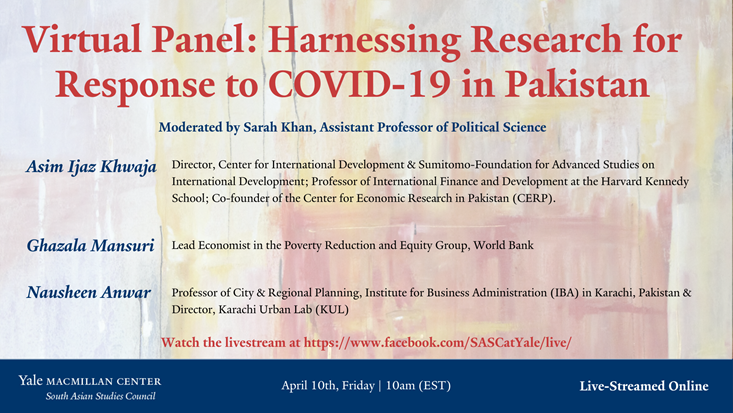 Watch the full event here.
The South Asian Studies Council in collaboration with Y-RISE hosted a virtual panel about harnessing research for  COVID-19 response in Pakistan on Friday, April 10.
Panelists:
Asim Ijaz Khwaja is the Director of the Center for International Development and the Sumitomo-Foundation for Advanced Studies on International Development Professor of International Finance and Development at the Harvard Kennedy School, and co-founder of the Center for Economic Research in Pakistan (CERP). His areas of interest include economic development, finance, education, political economy, institutions, and contract theory/mechanism design. His research combines extensive fieldwork, rigorous empirical analysis, and microeconomic theory to answer questions that are motivated by and engage with policy.
Ghazala Mansuri is a lead economist in the Poverty Reduction and Equity Group of the World Bank. Her research spans four broad areas: rural land, labor and credit markets, the economics of household behavior, and the political economy of participatory development and institutional and governance reforms for development. Her research on the political economy of local development includes a number of evaluations of participatory development programs. Dr. Mansuri has published extensively in leading journals in economics and development. She holds a Ph.D. in economics from Boston University.
Nausheen Anwar, Professor City & Regional Planning, Director Karachi Urban Lab (KUL), Department of Social Sciences & Liberal Arts, IBA, Karachi, Pakistan, focuses on the role policy-making and planning processes play in sustaining urban and regional inequality in cities in the Global South. She has  written a book "Infrastructure Redux: Crisis, Progress in Industrial Pakistan & Beyond" and is the recipient of several research grants from Harvard University, IDRC, DFID, AHRC/ESRC, NUS. Her latest work takes a look at new-fangled regimes of infrastructure planning, urban renewal land acquisition/development, and attended regional-urban transformations that involve enclosures, displacements, evictions, protests, and pathways of redress in urban Pakistan.
The panel will be moderated by Sarah Khan, Assistant Professor of Political Science, Yale University.