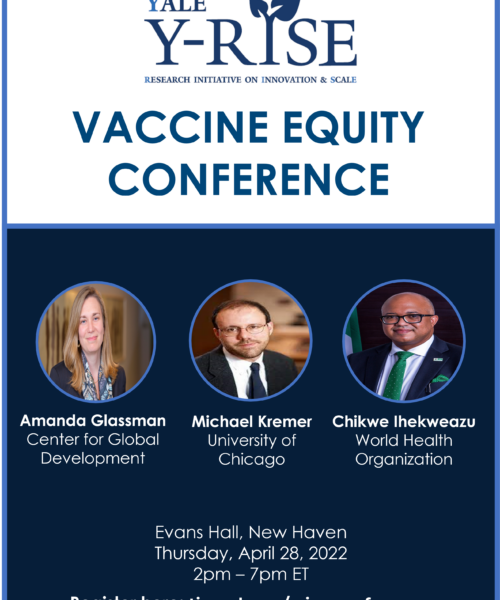 APRIL 28, 2022 ; 2PM – 7PM ET; EVANS HALL, NEW HAVEN
Event Description: This Y-RISE conference aims to bring together representatives from academia, government, civil society, and philanthropy to share insights on what has been done so far and discuss future action around vaccine equity. Sessions will focus on vaccine inequity in the developing world; economic, public health and policy measures to reduce inequity; last mile delivery of vaccines in the developing world and scaling up programs to deliver masks and vaccines.
Event Recording here.
Panelists:
Michael Kremer(Nobel Laureate, Professor of Economics, University of Chicago)
Saad Omer (Director, Yale Institute of Global Health)
Amanda Glassman (Executive Vice President, Center for Global Development)
Mushfiq Mobarak (Professor of Economics, Yale University)
Dr. Desmond Kangbai (Director -EPI Program, Min. of Health & Sanitation, Sierra Leone)
Neela Saldanha (Executive Director, Y-RISE)
Jason Abaluck (Associate Professor of Economics, Yale School of Management)
Asif Saleh (Executive Director, BRAC)
Laura Kwong (Assistant Professor, University of California Berkeley)
Dr. Ashley Styczynski ( International Infection Control Program, CDC)
Heidi McAnnally-Linz (Deputy Director, MacMillan Center)
Hakeem Belo-Osagie (Nigerian entrepreneur; Lecturer, Harvard Business School)
Chikwe Ihekweazu  (Assistant Director General, WHO, Hub for Pandemic & Epidemic Intelligence)
Gregg Gonsalves (Associate Professor, Yale School of Public Health)
Download Program here